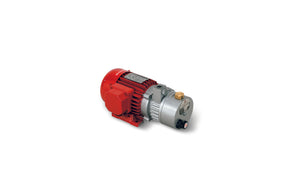 Small VTL Rotary Vane Vacuum Pumps
Vacuum pumps VTL 2 and 4
These small vacuum pumps have a suction flow rate of 2 and 4 m3/h.

They feature a wick lubrication with oil recirculation, while the rotor, which is cantilevered-fitted on the motor shaft, allows reducing the overall dimensions to the minimum.

The motor and the pump are cooled by the motor fan (surface cooling).

The pumps are equipped with a small tank in line with the pump, which contains the lubrication oil as well as a separator filter to prevent oil mists and to reduce noise.
We strongly recommend installing a check valve and a filter on the suction inlet.
Pumps VTL 2 and VTL4 can also be supplied with single-phase electric motor.
Product codes: VTL2 VTL4
---
We Also Recommend