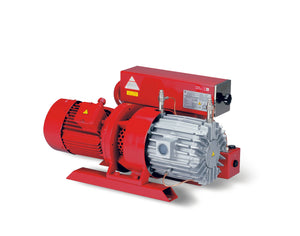 VTL Rotary Vane Vacuum Pumps 40 to 105m3/hr
Vacuum pumps VTL 40/G1, 50/G1, 65/G1, VTL75/G1 & VTL105/G1
These vacuum pumps have a suction flow rate form 40 up to 105m3/hr.
The vacuum lubrication with oil recirculation is adjusted via two oilers located in correspondence of the support bearings.

The rotor is cantilevered-fitted on the motor shaft and supported by independent bearings housed in the two pump flanges.
The pump and the electric motor are, therefore, two independent units and fixed onto a special support and connected to each other via an elastic transmission joint.
All this allows using standard electric motors, in the shapes and sizes indicated in the table.
The pump is surface cooled. Heat is dispersed from the outer surface, suitably finned, by means of a radial fan placed between motor and pump.

An oil recovery tank is installed on the pump exhaust. This tank contains a separator filter that prevents oil mists and reduces noise.

A check valve and a filter must be installed on the suction inlet.
These pumps are supplied with three-phase electric motors only.
Product codes: VTL40/G1 VTL50/G1 VTL65/G1 VTL75/G1 VTL105/G1
Product Date Sheets (VTL40 G1, VTL50 G1 & VTL65 G1
---
We Also Recommend