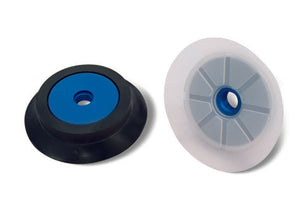 80mm Round Flat Vacuum Cup With Supports
These cups feature a particularly thin and soft lip, which allows it to grip very rough surfaces. Its supporting surface with cleats guarantees a firm grip on the load to be handled. These cups have been specially designed for gripping ceramic tiles with smooth, rough and non-slip surfaces, although, due to their features, they can also be used for handling glass, marble and cement objects.
These cups can be cold fitted with no adhesives onto their anodised aluminium support equipped with a threaded hole in the centre to allow their fastening to the automation.
Compounds: A= oil-resistant rubber  -  N= natural para rubber  -   S= silicone